ABOUT SUPER 40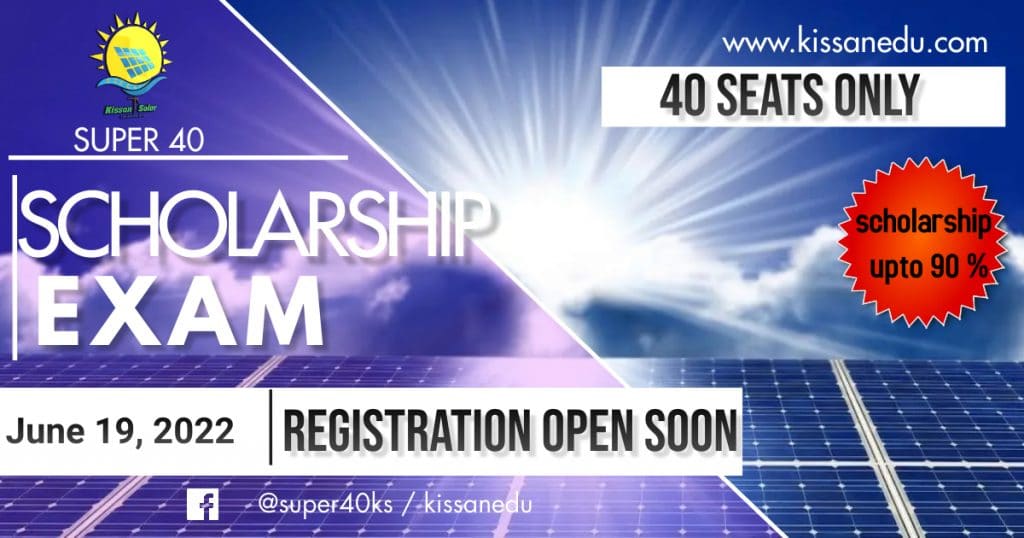 JOIN FB PAGE FOR MORE INFORMATION AND UPDATION

Super 40 is a Scholarship Programme for the Designing of the Solar Power Plant Course. This program is a part of Kissan Solar Education. Candidates who are willing to learn but due to some Financial Problem or other reason he/she cannot able, This program will help to achieve their goal and with knowledge, they will gain skills.
The availability of seats for this program is 40 only. We believe in quality rather than quantity. This program will help me to learn skills in the field of Designing and Installation of Pv Plant.
PROCESS OF SCHOLARSHIP EXAM
a. Registration of Candidate: This is the first step to attain in Scholarship Exam. All candidates must register themselves online by paying Rs 1 ( which is refundable ). This amount will be refunded for that candidate who will not be qualified for the Scholarship Exam. The registration link will be updated on the Website and Super 40 Kissan Solar Education Facebook Page (#super40ks).
b. Online Exam: The exam will be held Online. There would be Objective type questions related to Solar Energy and Solar Power Plant. The exam will be comprised of three categories. Category 1, Category 2, Category 3. Each category comprises different marks. Exam link will be shared in their Email ID or can join through the Website.
Cut off Marks = Updated soon
Syllabus = Solar Energy and Solar Power Plant
Duration of Exam = 45 Minutes
c. Result Declaration: The result will be declared after 10 Days of the Exam. On the basis of their result percentages, the Candidate will receive a scholarship of Rs 30,000 ( Base Fee ). Candidate can check their result on the Website and the team of Kissan Solar will call every Candidate. After the declaration of the Result, Only 40 candidates would join our Online Class.
d. Online Class: Candidate would join Class through Mobile & Laptop.
Duration of Course = 75 Days
Software: Pvsyst, Google Sketchup, Helioscope
FAQ related Scholarship Exam
Q1. Who can Apply for the Scholarship Exam?
Ans: All candidates. Age and Education are no Bar.
Q2. Can I register Offline?
Ans: Registration Link will be active online & Payment Rs 1 will be accepted Online.
Q3. How can I get the Registration Link?
Ans: Link will be shared on the Website or Super 40 Kissan solar Education Page ( #super40ks )
Q4. Can I get a Scholarship if I failed an exam?
Ans: You should try for the next Session. You will not get a Scholarship
Q5. Can I join the Class after not qualifying exam?
Ans: Only 40 students will get Scholarships. You can Join without a scholarship.
Q6. What would be Course Fee?
Ans: It will depend on your Result, it varies from Rs 5000 to 30000.
Q7. Can I get a Job after this Course?
And: We would provide a platform where you can join in interviews. You will qualify on your merit.
Q8. Can I receive a Certificate?
Ans: You would receive MSME approved Certificate.
Q9. Would i receive Knowledge practically?
Ans: All assignments and examples will be done on basis of Practical.
Q10. Can I attain class Offline?
Ans: Candidates would be from different parts of the Countries. It would more beneficial to join online with all of them